Why Mainstream Singles Parties and Speed Dating?
Over the last few years the distinction between adult dating and mainstream dating has become increasingly blurred. Amongst Club Aphrodite's members there have always been those who prefer to enjoy their sexually liberated lifestyle on a one to one basis in privacy.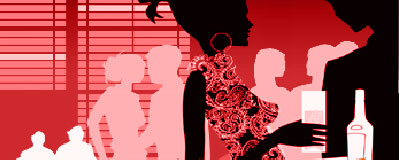 Casual dating parties can acheive the same outcomes
It is hard to distinguish this from what is commonly referred to as casual dating. There are also many people who are seeking long term friendship and even romance within adult dating. We have also found significant numbers of members attending our swinger parties who do nothing more than socialise with like-minded people achieving the same outcomes as people attending dating parties and speed dating events.
Are Speed Dating Events and Casual Dating Parties more appropriate than adult dating for some people?
It is not only a significant proportion of our past and existing members who experience this overlap between adult and mainstream dating. Much the same can be said about many of our site visitors who decide not to join Club Aphrodite. Indeed, we strongly suspect that a substantial majority of people who decide not to join Club Aphrodite do so precisely because what they are really looking for is more in keeping with what speed dating events and casual dating parties offer.
About Singles Dating Parties
Most singles dating parties take place in at exclusive bars and clubs. The events are packed full of fun dating activities and absolutely guaranteed to provide guests with a fabulous night out, where the atmosphere is exactly the sort needed to get everyone mingling!
These mainstream dating events make the perfect platform for meeting up with other singles who are looking for casual dating, longer term relationships, romance or just friendship and social fun. The relaxed, party ambience is beyond comparison and the highly professional hosts know exactly when and how to use icebreakers and gentle encouragement to ensure that all guests get the very best out of the experience.
What happens at a singles dating party?
The singles party's experienced and friendly hosts are ready to greet you when you arrive. They help you relax and provide with a singles party pack. This includes some flirt cards, a pen, and flirt file. The file and pen are for you to make notes of guests who you might be interested in. You can note their names, badge numbers and hand out flirt cards to them.
As you explore the numerous activities taking place throughout the venue, such as Speed Dating and Lock and Key, and Polaroid photo wall (London only) simply give a Flirt Card to any guests with whom you feel there might be some chemistry.
Take part in singles parties' activities
or just do your own thing
The guests then go to the bar where their hosts explain all of the activities that are available to them for the rest of the evening. All of them are aimed at encouraging daters to mingle and get introduced to one another. But no one has to take part in any activity they don't want to. You can just choose the ones that suit you. Some people even choose not to join in any of the activities and that is also perfectly acceptable. Instead, you can simply sit at the bar, chat and socialise in your own way and time or dance to the latest dance sounds as your way of making contact - its entirely up to you. You have all the evening until the early hours of the morning, so there is no rush or pressure.
Singles dating parties Photo Walls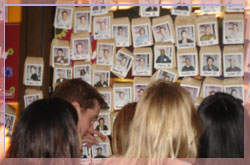 At any singles dating party, you can have your photo taken and have it displayed on the party's photo wall.
The service is free and completely optional.
Photos are printed within a few seconds of being taken and added to the Photo Wall for the duration of the party. The idea is for guests to view the Photo Wall, decide if there are any photos they like the look of and if so leave a message on a 'flirt card' for their owners to respond to.
Speed Dating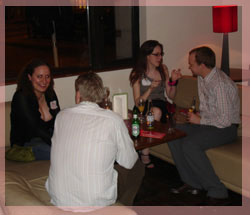 Speed dating is a tried and tested activity for finding dating partners. A speed date lasts a maximum of four minutes and consists of twenty guests divided equally into males and females sitting opposite one another. The evening is made up of constantly running speed dating sessions each of thirty minutes, during which time ten speed dates take place. Guests use their Flirt Files to note when they feel there might me some mutual attraction developing. If both feel that they have hit it off they can check each other's personal profile after the party on the web-site.
Casino game at singles dating parties
Another, popular activity at some singles dating parties is casino table fun. Guests place their bets at the table to see if they can 'score' with the partner of their choice. It's fun and purely optional for those who like activities to be organised for them. But as always, everyone is completely free to do their own thing and no one is ever put under any pressure to join in the activities of any singles dating party!