Swinger Couples Arrange Hotel threesomes
Hotels near Heathrow
Swinger couples who want an extra single male or female to join them for sex often arrange the threesome to take place in an hotel. There are several hotels in the south of England that are particularly popular for this kind of event but it is important to emphasise that most hotels are likely to ban anyone they know to be using their accommodation for this purpose. The hotels that are used regularly are not named for this reason, yet it still happens that news leaks out on occasions, leaving frustrated participants to find alternative accommodation for their group sex sessions.
Two hotels close to Heathrow airport are particularly popular. The accommodation is very good and the privacy afforded is excellent. Discretion has always been successfully maintained in both hotels.
Last year, one particular couple who enjoy their threesome sex to be with an extra male, booked rooms at both hotels and also at two others that are quite nearby. Their reason for doing so instead of just returning to the same hotel every time was to avoid recognition that might arouse suspicion. They also always take the precaution of checking in by themselves and arranging for the other male to text them for their room number. These precautions might sound a little bit over-the-top to some swingers but its always better safe than sorry when using hotels for any sort of swinging or group sex activities.
FMM and FFM Threesomes
Remarkably, couples who prefer FMM 3somes to FFM ones often discover that there are fewer single males looking for this kind of threesome sex than most swingers would imagine.
This is of course, very good news if you are a single male. Hooking up with a swinger couple will not only get you some very good threesome sex but it is also likely to lead to you being introduced into the world of swinger parties as well. So if you are looking for some hotel fun with a swinger couple, use our free sign up to create a profile that tells them you would like to hook-up for the next hotel 3some that is arranged in your area.
Hotels near Gatwick
Over the past few years there has been a similar use of hotels in the Crawley area. Here again, the proximity of an international airport (Gatwick) seems to have created the right kind of hotels that make arranging discreet liaisons easy. As well as several couples who have used the hotels for both FFM and MMF threesomes, there is also at least one single male member who regularly organises 3somes and small parties in them. As a member, you can either do the same or just hook-up with some of the couples instead.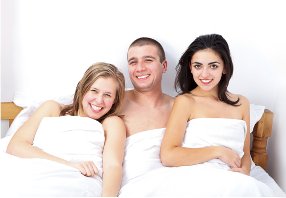 Hotel 3somes in Bournemouth
If you are a single male who might like to enjoy a long weekend in beautiful Bournemouth, why not spend one of your evenings having a 3some with a couple who regularly use a really nice, up market Bournemouth hotel for their swinging fun? This couple are always on the outlook for new guys to entertain in their sea-view room but there are many others all over the U.K.