The Perfect Swinger Party Setting
Mike and Julies' home makes the perfect swinger party setting for both couples parties and mixed parties in the Plymouth area.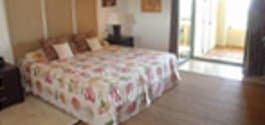 It is a modern four bedroom house in a secluded cul de sac with nearby, safe parking. On entering it, guests can leave their belongings safely locked in the cloakroom before making their way into the large reception room.
Next to this, the dining room is used to set out sumptuous party buffets. Guests tend to gather here at the early stages of every party to mingle and socialise.
The large sitting room, provides further opportunity to get to know each other but with three comfortable sofas to choose from, some petting and more intimate foreplay often starts here. A 48 inch TV, provides the occupants with encouragement by playing a constant stream of adult movies.
The other downstairs rooms consist of a kitchen, utility room and a comfortable conservatory in which more adult fun frequently takes place.
Upstairs, the master bedroom suite, is the most popular play area for swinger couples who want to enjoy foursomes and moresomes on the king sized bed. There are three further bedrooms, all of which have en suite shower rooms.
The superbly decorated, large bath room includes a Jacuzzi that is big enough for six people to enjoy adult fun in.
Outside, the houses' secluded rear garden office the opportunity to enjoy moonlight swinging on warm summer nights.
Saturday for Swinging Lifestyle Couples
Mike and Julie prefer their Saturday night parties to be swinger parties to which they only invite lifestyle couples and single females.
Apart from a few of their personal friends, the guest list is drawn up from Club Aphrodite members only but with plenty of nearby guest houses and hotels, many who attend live outside of the Devon / Cornwall area.
Friday Night Mixed Parties
On Friday nights, the guest list is also drawn up mainly from Club Aphrodite members but single males are invited along with couples and single females who enjoy the extra guy or two to play with.
These parties tend to attract the more experienced swingers who like to get down to real group orgy action at an early stage of the evening.
Club Aphrodite's members in the Plymouth area not only enjoy sex parties like the ones described above but also meet up for more private liaisons. Many prefer twosomes, threesomes and foursomes to full blown, swinger party sex. Others, especially single guys, use our site to hook up with swinger partners so they can enjoy parties as swinger couples. Whatever your preferences, joining us should be your first step to enjoying the swinger lifestyle in Plymouth.